I'm not sure on the correct name. I like them all (although I must admit Meme sounds a bit more sophisticated that what I am lol). I started linking up and seeing my stats raise and that excited me. Then I wondered why it was exciting me. I do not need a gazillion followers or hundreds of comments on every post. Still it is nice to know that someone is reading, and that they like what I did with my littles. It is nice to know that I can encourage and inspire just by blogging our week. There are many times when I've been having a so-so day and I receive a kind comment and it makes me smile. I finally realized just why it excited me. Not because my stats went up, but because I was connecting with others in the outside world who are in the same stage/circumstance of life I am in. For a SAHM that can be hard to do!
I have come to be acquainted with many of these bloggy moms, and would dare even call some friends. I am so glad that I have gotten to know them and would even say that they are a blessing and used by the Lord to encourage and inspire me. In turn I try to do the same for others out there (I love leaving comments!).
Enough sappiness and depth, this is mainly a post to say if you are just jumping into the blog world I encourage you to jump in with both feet and become part of this fun community. So I wanted to give a shout out to my linky parties.....AND a few of my faithful commenters/friends.
Linky Parties:
1+1+1=1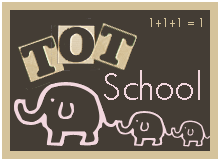 This is where I connect with other fantastic moms of toddlers to exchange ideas
Carisa also has some incredible FREE printables!
Homeschool Creations

This is where I connect with other great moms of preschoolers/5Kers
Jolanthe hase amazing FREE printable too!
Our Country Road
This is a brand new one TODAY! Connect with others who LOVE Pinterest. :)
This is also a great blog full of homeschooling ideas and one of my favorite reads.
Mom to 2 Posh Lil Divas
I just started linking up to this one a couple weeks ago
Where I find some fun crafty ideas.
One Hook Wonder
and
Living Montessori Now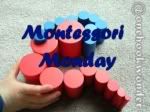 Another one I just joined a couple weeks ago.
Where I find fabulous tray activities.
My Life on a Taffy Pull
(I have never figured out where her garage sale button code is. lol)
Where I connect with people who LOVE to garage sale as much as I do
PLUS, one of my favorite reads.
Weird, Unsocialized, Homeschoolers
I haven't linked up to this yet, but will eventually. Kris hosts a Weekly Wrap Up
Great place to connect with homeschool families younger elementary - highschool.
Now a few shout outs to some of my favorite people (minus the two mentioned above).
Beth of
From the Hive
- super fun and so easy to read, plus I really like her!
Carolyn of
Purpose Driven Home
- we are pretty much the same person. :)
Charla of
Hiding Away in History
- a fellow Winter Promise user and really nice.
Amanda of
Nursery Rhymes and Fun Times
- she is always leaving me sweet comments. :)
Cassie of
Engineering Mom
- someone I know in real life. New to the blog world, but put together her very own state history curriculum this year, and is switching from traditional textbook teaching to a whole book style of learning (with lapbooking and notebooking).....should be fun to read about. :)
Well, that's it for now....just wanted to send out some love, and encourage others to get connected!
HAPPY BLOGGING!!
jess_hak