I have gleaned so many ideas off of all the wonderful blogs that I read. I wanted to give back some link love and share some of the bigger projects that I have worked on for Valentine's week/the month of February.
I found a great idea at
Me and My Tator Tots
. I have been looking for a way to talk about certain aspects of love and this post gave a good, concrete way to do that with little ones. Using a great print out from
1+1+1=1 Valentine's tot pack
. I made a love vase. Each day the kids will take turns pulling out an attribute of love from the vase (ex: Love is not Rude). We will discuss the characteristic: what it is to be rude, what are some things to prevent being rude. Finally, I have books for a majority of the characteristics that will help explain what being rude is, and what to do instead. They are from the Help Me Be Good series by Joy Berry.
This picture is not that great, sorry about that , but this is chocolate play-doh that I made. This is my 2nd attempt at chocolate play-doh and the recipe I used this time is much better! I found the recipe and the idea for this activity at
My Montessori Journey
. I love the idea of putting chocolates into a real box like they did at
Counting Coconuts
. This fun printout can be found
here
. I know that my kids will love this, and I like that it is going to help them learn to roll their own balls of dough.
This is Annabelle and Asa's sensory bin. This is the first time I've used rice (it's always kind of intimidated me to put rice in a sensory bin for some reason). I also made this an I Spy type of sensory bin (their first one). I think that they'll really enjoy it. I know that there are a lot of blogs that do the I Spy type of bin, but
Counting Coconuts
is the one that I first saw it on.
This is Silas' sensory bin. I just did some easy things for him. The long red tube is for the red poker chips. The sour cream container is for the pom poms, red foam cylinders, and the purple heart scatter. There are also purple and red duplo in it for building fun.
Well, that is what I've been working on this weekend. I'm excited for the kids to actually play with all of it. Hope it helps someone out there with some ideas like the posts I've mentioned have helped me. Happy blogging!
jess_hak
Visit
Preschool Corner
and
1+1+1=1
to see what other kids are up to this week.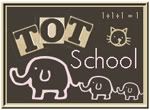 also linked to
here
.